Silent Card Tier List in Slay the Spire
A comprehensive Silent card tier list in Slay the Spire, with quick breakdowns and rankings for all attack, skill, and power cards.
By Baalor
Common Silent Cards
There are 19 green cards in Silent Common cards pool.
Acrobatics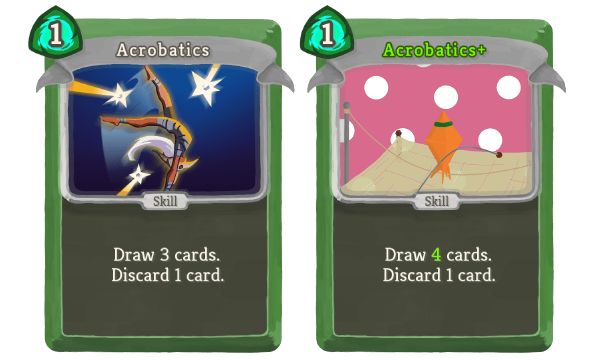 The Silent has an unbelievable number of draw mechanics, and Acrobatics is one of the most efficient ones. It's cheap, draws a lot, and being a common card, it appears very often as a reward.
Early game, it's not all that good with 3 energy and only Strikes and Defends in the deck. However, later in the game, when you have extra mana, more zero-cost cards, Tactician or Reflex synergies, Acrobatics becomes phenomenal. It finds a place in almost every Silent build.
Rank: A
Backflip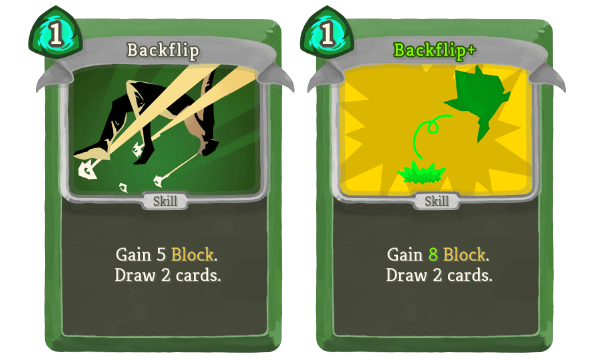 Backflip is another way to cycle through your deck faster. While the amount of defense and draw it offers is mediocre, the combination of these two effects is a pretty good deal.
Rank: B
Bane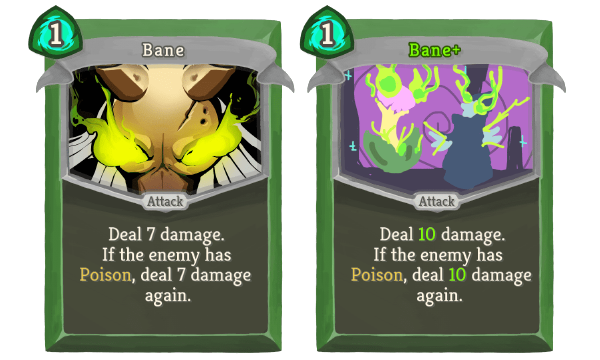 Bane deals acceptable frontloaded damage to poisoned enemies; otherwise, it's just a slightly improved Strike. You want poison established by having Twisted Funnel relic, bottled poison card, or at least two other poison cards to feel comfortable using Bane. Even then, usually when you have a poison deck, damage is not the thing that you're really worried about.
Rank: C
Blade Dance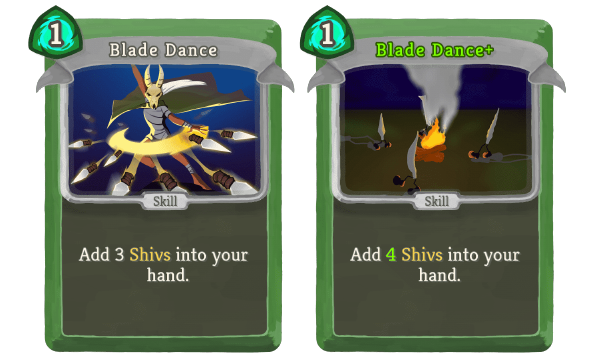 Blade Dance provides base 12-16 damage on its own, which is remarkable compared to other Silent attacks.
The Silent is often rewarded for playing more cards; when you play 3-4 Shivs alongside Blade Dance, you gain additional damage from A Thousand Cuts and more block from After Image. These attacks sets you up for powerful Finishers and enables poison stacking with Envenom. Additionally, Kunai or Shuriken relics will rapidly boost your stats.
Rank: A
Cloak and Dagger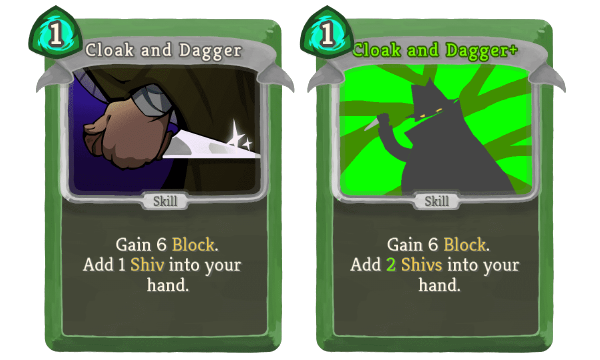 Cloak and Dagger is a nice addition to an established Shiv build, but the card doesn't bring a significant improvement to a starting deck.
Rank: C
Dagger Spray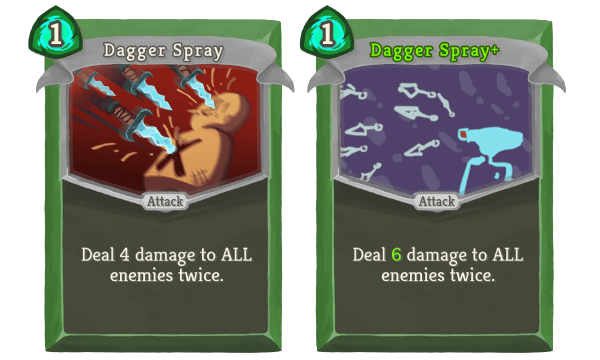 The Silent only has a few decent AoE options, and two of the other good ones (Die Die Die and Corpse Explosion) are rare. Therefore, Dagger Spray is a solid choice for the early game when you don't have better alternatives.
While its default damage may seem insignificant, upgrading it makes it much stronger. The card becomes much more effective with the Akabeko relic or with some boost in strength.
Rank: B+
Dagger Throw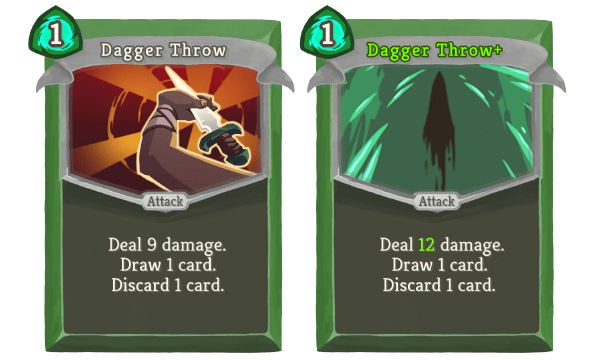 Dagger Throw is a fine damage card to pick up in Act 1. It remains relevant in the late game as a discard effect enabler. Even if your deck lacks discard synergies, Dagger Throw proves to be occasionally useful for avoiding curse/status effects.
Rank: B+
Deadly Poison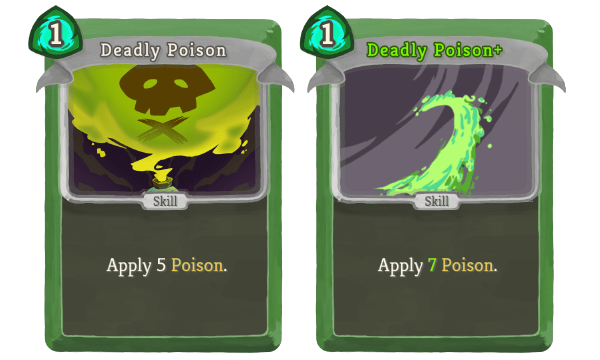 Deadly Poison is a good foundation for a poison-focused build with the Silent. Despite being one of the weakest poison cards, it remains effective against early-game enemies, including Guardian and Hexaghost bosses.
However, Deadly Poison struggles against Gremlin Nob due to his punishment of skill usage and against Three Sentries due to their artifacts.
Rank: B+
Deflect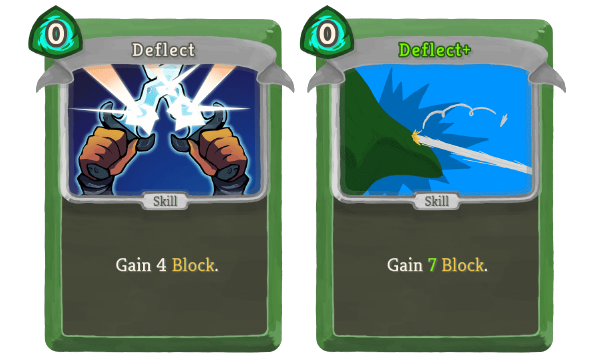 Deflect offers free block, which might lead new players to acquire it too early. In practice, Deflect consumes your draw and clutters your hand with a low-impact defense when you when more offense during Act 1 fights.
Deflect becomes significantly stronger and more viable with increased card draw, higher dexterity, and action-rewarding powers. The Silent benefits from defensive skills in many of her builds, and Deflect is often exactly what she needs.
Rank: C+
Dodge and Roll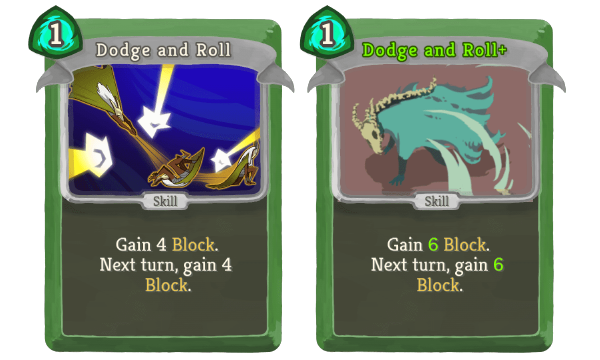 Dodge and Roll is the Silent's only multi-dexterity scaling card. Great mid-game pick if you have at least one Footwork in a deck. Otherwise, it's best to avoid it in favor of the Silent's other block options.
Rank: B
Flying Knee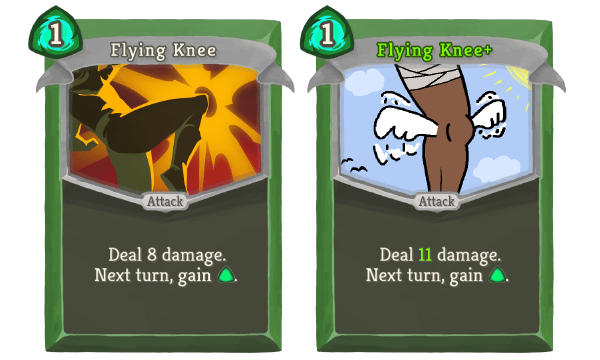 Flying Knee is a valuable card for ensuring you possess at least some damage against the first elites. Beyond Act 1, the card becomes less relevant as the Silent typically focuses more on her spells and damage mitigation.
Rank: C+
Outmaneuver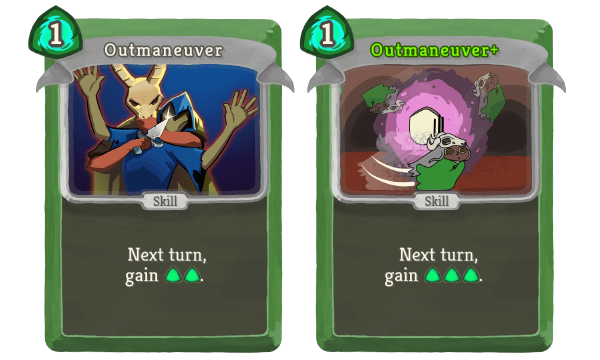 Outmaneuver is one of the few cards in Slay the Spire that you can usually skip without much consideration. The issue with Outmaneuver lies in its lack of immediate impact upon being played, and you're not guaranteed to draw cards on the next turn to utilize the gained energy.
Nonetheless, there are synergies that can make Outmaneuver truly shine. Retained X-cost cards benefit the most from Outmaneuver; Bullet Time with Snecko Eye makes it free, and the additional energy will be very useful for playing costly cards on the next turn.
Rank: D
Piercing Wail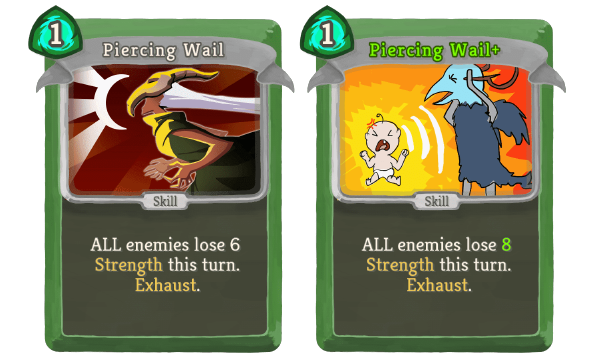 Piercing Wail is a superb defensive solution in the majority of fights, particularly in latter half of the run.
The card provides its highest value when played against multiple enemies or multi-attacks. It can nullify up to 90 damage from the Corrupted Heart, negate 50 damage against Reptomancer, and provide 18 block in a wide range of scenarios. At the very least, it will prevent 6 incoming damage, which is still more effective than Defend.
Piercing Wail can also be utilised to permanently clear strength buffs from the Champ, Time Eater and Awakened One when they are transitioning.
Rank: S
Poisoned Stab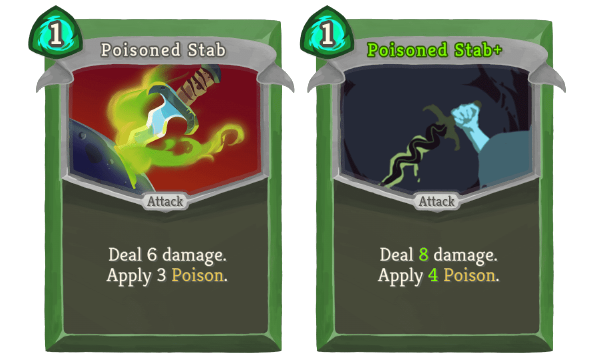 Poisoned Stab is probably one of the worst sources of Poison, but it still provides pretty good upfront damage against Act 1 elites, notably against Gremlin Nob.
Rank: B+
Prepared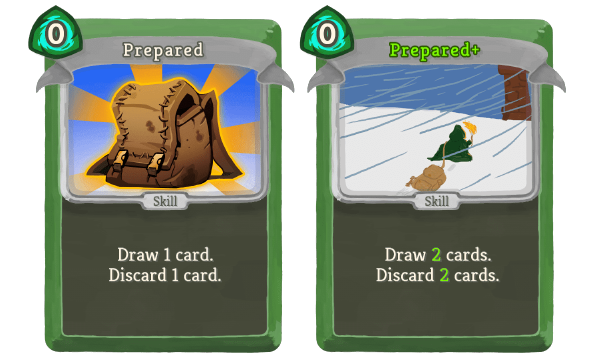 Prepared works wonderfully as an enabler for the Silent's numerous discard synergies. On its own, without an upgrade, it simply allows you to discard one card from your hand.
Prepared can also prove useful for discarding Curses or Status cards, as well as creating space in a cluttered hand.
Rank C
Quick Slash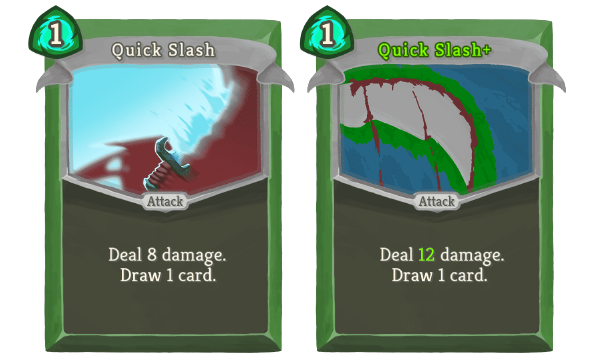 Quick Slash is another common attack card that is a necessary evil. The basic Silent deck is so poor at dealing damage that you pretty much have to settle for whatever you're offered in the first few floors to stand a chance against Gremlin Nob. It's usually not worthwhile picking up Quick Slash beyond Act 1.
Rank: C+
Slice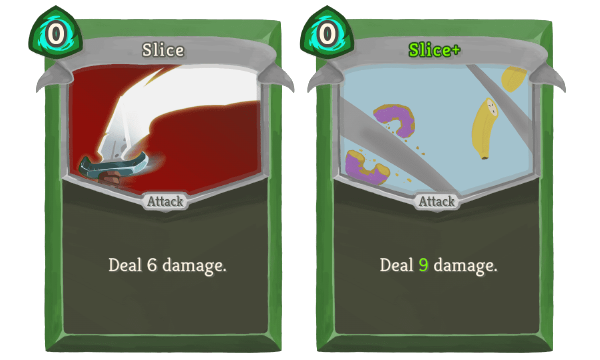 Slice is pretty good as a first card reward in a run. It helps with much-needed damage against Act 1 elites, but falls off hard in Act 2 and looks even less valuable if you grabbed a 4th energy boss relic.
Slice goes well with Kunai, Shuriken, and Wrist Blade.
Rank: B
Sneaky Strike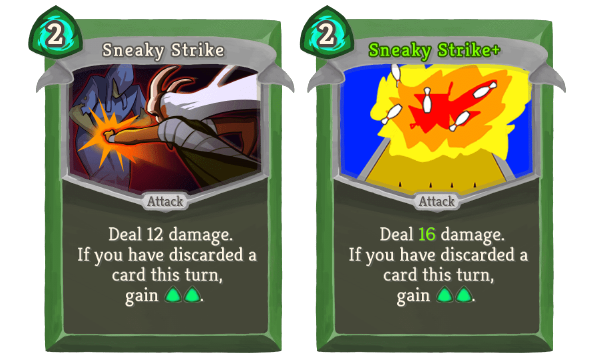 Sneaky Strike is a rather mediocre common damage card that the Silent is sometimes forced to pick up. It does interact with a couple of relics (Snecko Eye, Necronomicon) that can render it energy-positive in specific situations, though it's not particularly game-changing.
Generally, Sneaky Strike is a poor choice of damage card, unless you have some discard engine in your deck.
Rank: D+
Sucker Punch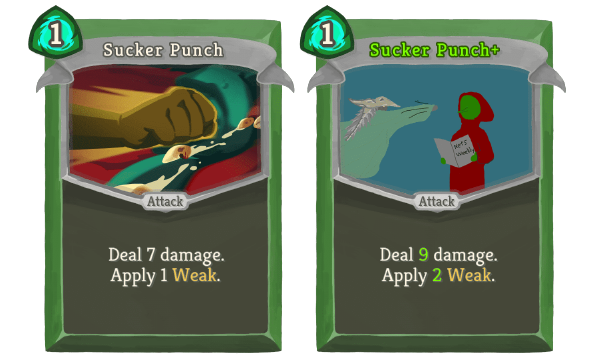 Sucker Punch is one of the Silent's lowest damage commons. It could be very valuable unless you have a better source of Weak such as Crippling Cloud, Leg Sweep, or Malaise in your deck already.
Upgrading this card is highly recommended, as it doubles the duration of the Weak effect.
Rank: B
Uncommon Silent Cards
There are 33 green cards in Silent Uncommon cards pool.
Accuracy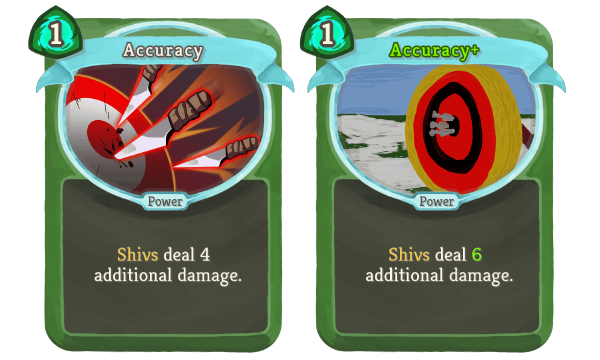 Accuracy is a reasonable addition to an established Shiv build. Upgraded Accuracy boosts Blade Dance's damage output, turning it from dealing 16 to 40 damage, which is incredible.
Accuracy isn't worth considering early on, as it doesn't add any damage to a starting deck.
Rank: B
All-Out Attack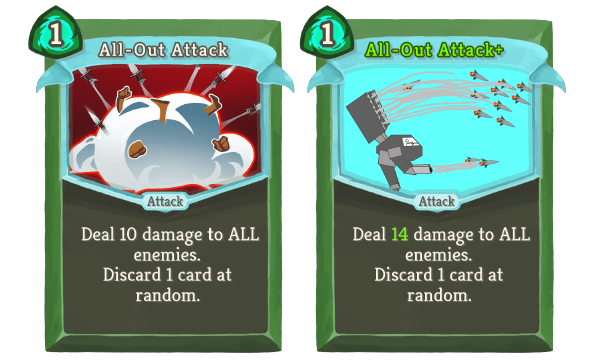 All-Out Attack offers good area of effect damage to get through Act 1 and Act 2. The card has a notable downside: a random card discard. That really messes with Silent in particular, who wants to be able to choose which cards she discards from her hand, or to keep a particular card to retain with Well-Laid Plans and play it later.
Rank: B
Backstab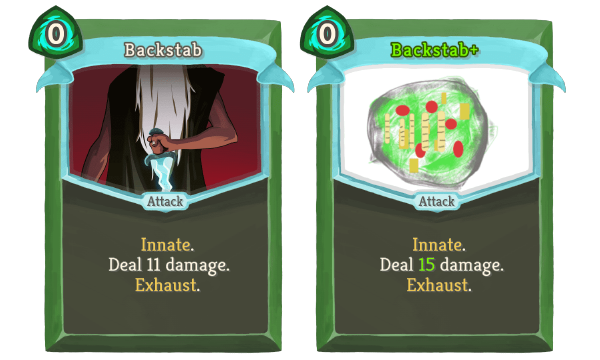 Backstab is simple frontloaded damage that reliably carries you through Act 1 and Act 2. It combos excellently with Silent's Ring of the Snake, Bag of Marbles, and Mutagenic Strength relics.
Getting multiple copies of this card can lead to clogging your opening hand, making it harder to set up defense in boss fights.
Rank: C
Blur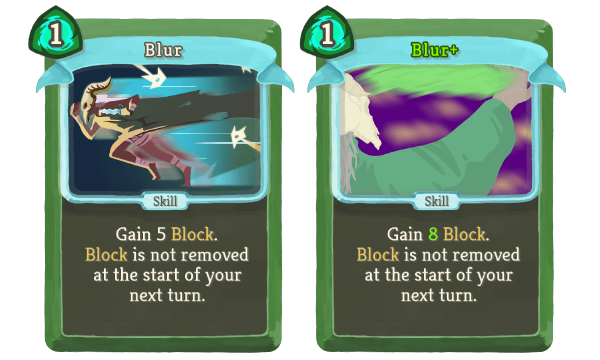 Blur is one of the Silent's top block cards. With a little Dexterity boost, stacking Blur becomes remarkably effective — it's akin to the Ironclad's Barricade or Defect's frost and focus stacking.
However, not every deck can benefit from Blur. Without any Dexterity and sufficient card draw, Blur is no better than a Defend.
Rank: S
Bouncing Flask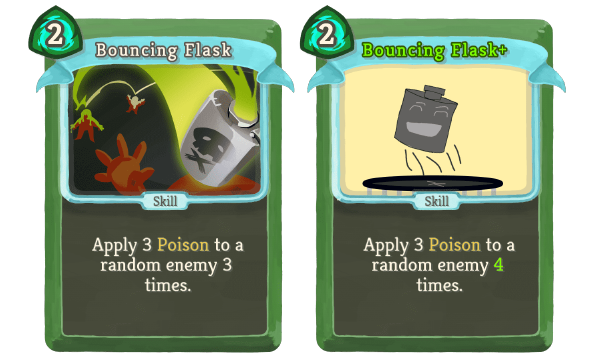 Bouncing Flask is the strongest poison card against a single enemy. Its multiple applications of poison are excellent for stripping away artifact charges — a crucial step for your poison to deal any damage at all.
In battles with multiple enemies, this card's effectiveness diminishes significantly due to the uncertainty of where the poison will land and the fact that each enemy loses one poison per turn. The high cost is another drawback, and with only 3 energy, it becomes difficult to play Bouncing Flask consistently.
Rank: A
Calculated Gamble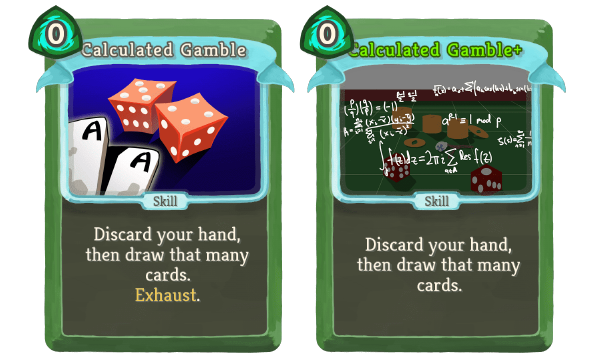 Calculated Gamble allows you to discard more than any other card can. Being able to cycle everything is exceptionally useful with Runic Pyramid. Tough Bandages and Tingsha relics make this card crazy good, and it's great with unplayable Reflex and Tactician. Even without any discard synergy, the card can be useful for finding a specific card (such as Apotheosis) as soon as possible.
Rank: S
Caltrops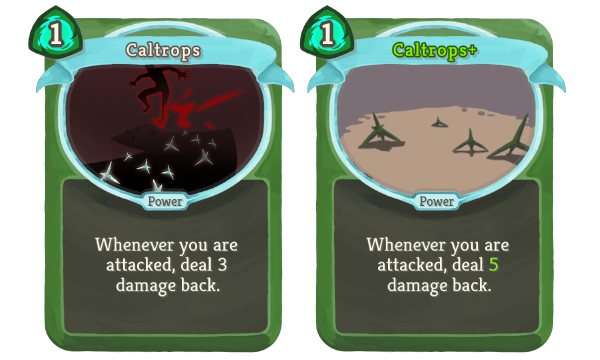 Caltrops is a one-card damage solution against multi-attacking enemies, most notably Byrds, Book of Stabbing, and The Heart (45-75 thorn damage from its multiattack!).
Rank: A
Catalyst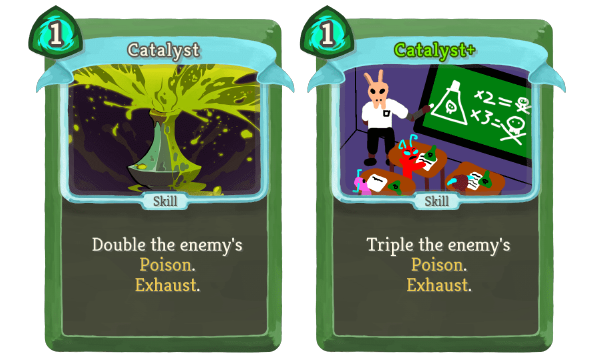 Catalyst is the ultimate finisher in any poison build. Its multiplicative scaling is enough to eliminate even the toughest bosses in Slay the Spire. A single copy of Catalyst, combined with Nightmare or Burst, can be your entire damage strategy for taking on the Corrupted Heart.
Rank: S
Choke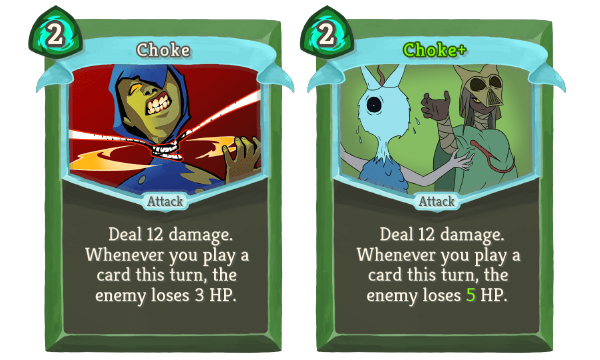 Choke is a niche card that seldom finds a place in most decks. Its high 2-energy cost renders it unwieldy, preventing the effective utilization of its main effect within the remaining energy. Furthermore, its usefulness is hindered by enemy artifacts that negate its debuff. Cheap cards, four energy, and enhanced draw significantly improve Choke's effectiveness.
Rank: D+
Concentrate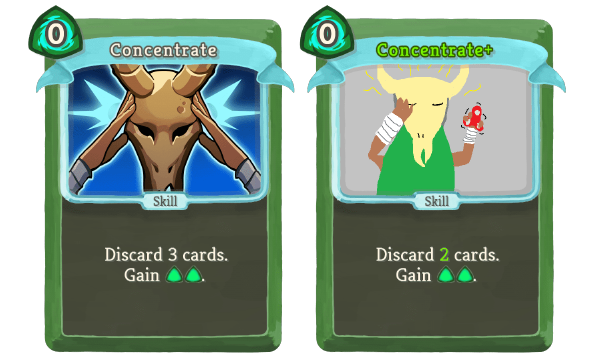 Concentrate is an energy-generating card that's detrimental without proper setup. The issue with Concentrate is that giving you energy and discarding cards from your hand usually run contrary to one another, because it leaves you with nothing to spend the energy on.
The card synergizes remarkably with Reflex and, when combined with reliable draw, becomes an enabler for infinite combos.
Rank: C
Crippling Cloud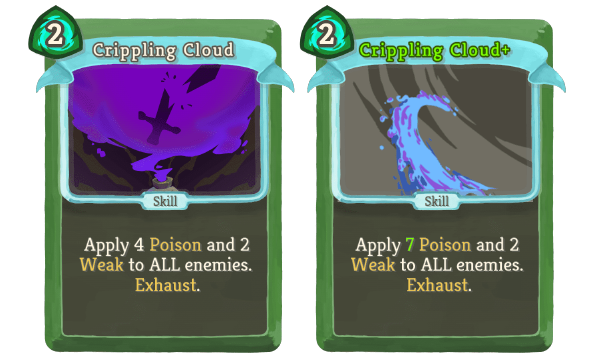 Crippling Cloud is an exceptionally strong AoE skill that shines in most fights, especially against multiple enemies. Its efficiency extends beyond poison-based builds, as AoE Weak is excellent defense and it effectively strips artifacts, taking away 2 from each enemy.
This card truly benefits from an upgrade, resulting in a significant damage increase — from 10 total to 28.
The only time when you'd prefer not to have it is when you're stuck at 3 energy with no means of generating more.
Rank: A
Dash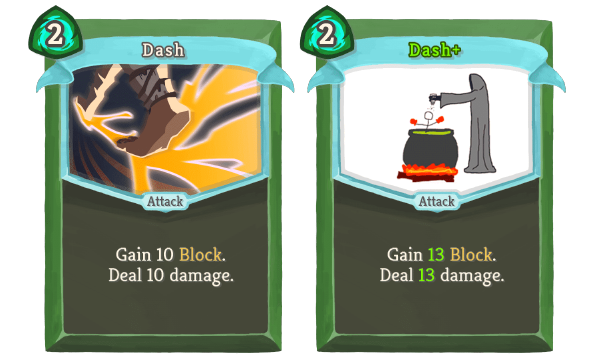 Dash is an incredible card for Act 1 that offers both defense and offense. It falls apart a little bit in Act 2 and Act 3 due to superior alternatives, but never becomes useless.
Rank: B
Distraction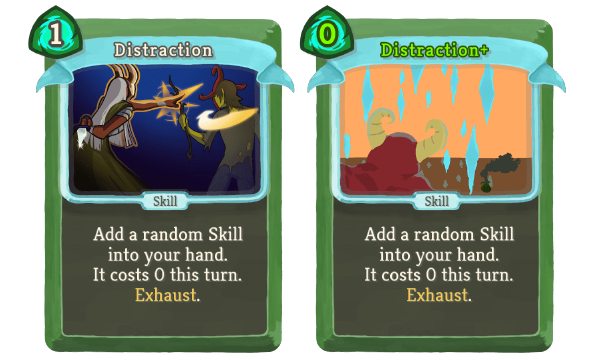 Distraction is the most unreliable card in the Silent's card pool. The random skill it generates is entirely unpredictable in terms of what you'll receive. You could end up with a Catalyst in a Shiv deck or an unplayable Reflex or Tactician that requires a discard effect you don't have.
Relying on this card for any specific outcome is bound to result in disappointment.
Rank: D
Endless Agony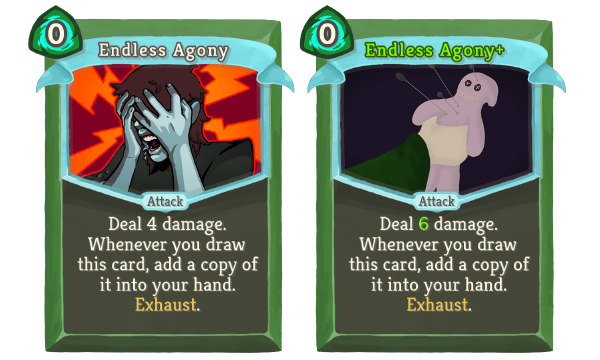 Endless Agony is a card with potential, but it requires the right deck to truly shine. In a compact deck with good card draw, allowing it to cycle through the deck a couple of times can result in further substantial free damage.
Even without a specific build setup, it still deals decent damage early in the game for 0 energy. And it doesn't clog up a deck in the late game as it exhausts upon use.
Rank: C+
Escape Plan
Escape Plan has little impact on its own, but lacks downsides most of the time. It synergizes effectively with boosted Dexterity and powers that reward actions. At the very least, Escape Plan is a free draw. It only has a disadvantage for you in a small handful of fights: Gremlin Nob, Chosen, Snecko, Time Eater, and the Corrupted Heart because of Beat of Death.
Rank: B
Eviscerate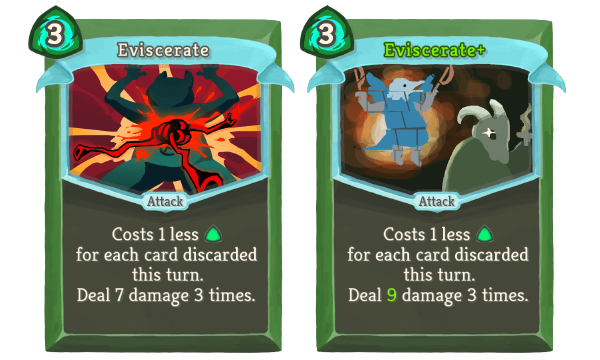 Eviscerate is a cheap damage solution in discard-heavy builds; otherwise, it's too costly to play.
Rank: B+
Expertise
Expertise is another draw card that requires some setup to reach its full potential. It synergizes exceptionally well with Concentrate, Prepared, or anything that removes cards from your hand.
Rank: C+
Finisher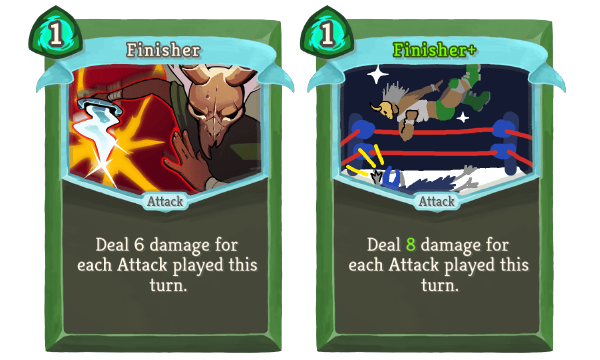 Finisher can be a devastatingly powerful card, particularly if drawn together with Blade Dances. Without Shivs, Finisher will do very little.
Rank: C+
Flechettes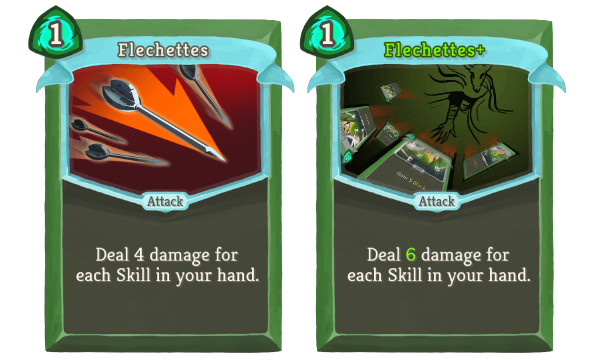 Flechettes can deliver significant frontloaded damage if you have a substantial number of cards in hand. In poison-oriented decks with primarily skills, Flechettes can prove valuable for killing minions during elite or boss fights.
Rank: B
Footwork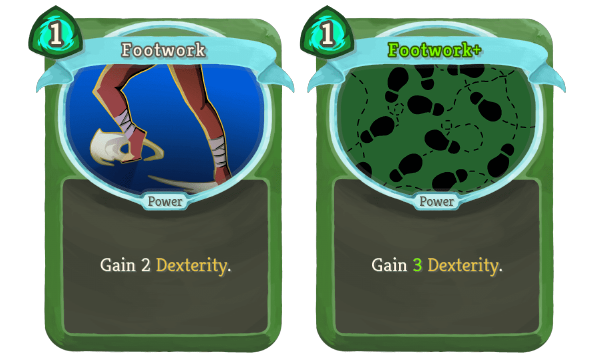 Footwork is Silent's most direct and reliable method of scaling defense. Granting additional blocks on all cards for 1 energy proves to be an excellent way of prevailing in long boss fights. A couple of Footworks alongside low-cost defensive cards are core parts of the Silent's late-game defensive strategy.
Rank: S
Heel Hook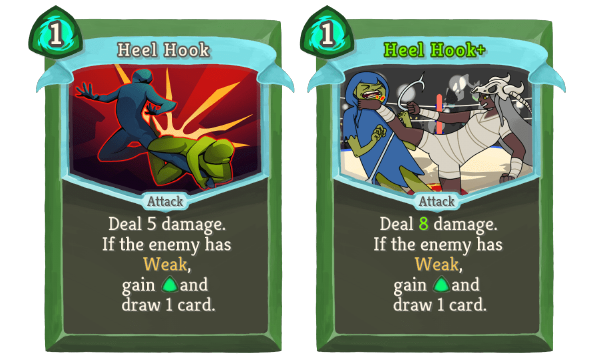 Heel Hook is a situational card that benefits from Weakened enemies. However, in practice, it demands significant setup to function. You require additional sources of Weak, and even then, the results aren't particularly impressive.
Achieving an infinite deck setup, similar to how Ironclad can with Dropkick, proves more challenging for the Silent due to her larger deck size and lack of exhaust abilities.
Rank: D
Infinite Blades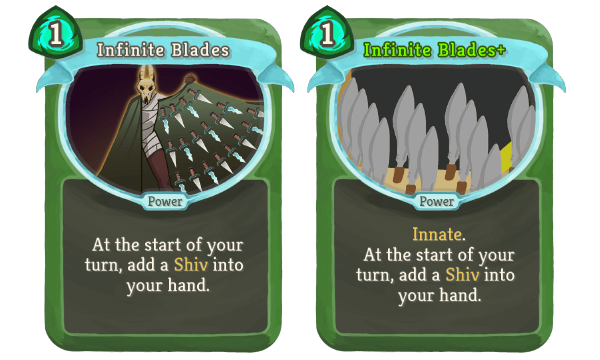 Infinite Blades offers the slowest way of generating Shivs in your deck. Compared to Blade Dance, it takes 4 turns to produce the same number of Shivs.
It's worth considering taking Infinite Blades for fights that are anticipated to extend beyond 4 rounds, particularly if you possess relics like Kunai, Shuriken, Wrist Blade, or Mummified Hand.
Rank: D
Leg Sweep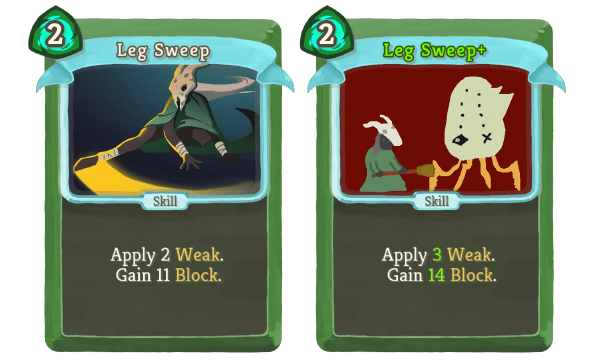 Leg Sweep is an incredibly efficient defensive card. It fits well in nearly any deck and can act as a real lifesaver, both in the early and late game.
Rank: A+
Masterful Stab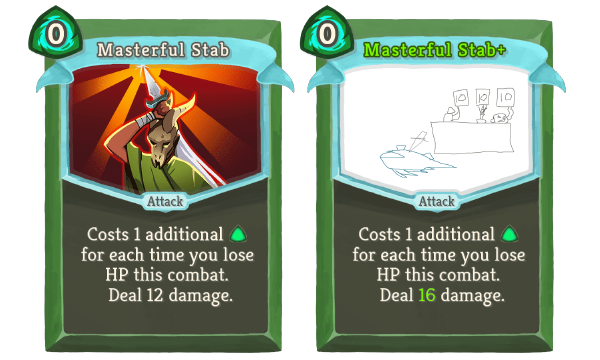 Masterful Stab is an excellent card until you take damage. If you somehow work out a way to prevent all incoming damage, this card becomes the crown jewel in your arsenal. In practice, Masterful Stab tends to be mostly useful once per battle, quickly transforming into an unplayable card akin to a curse.
Rank: D
Noxious Fumes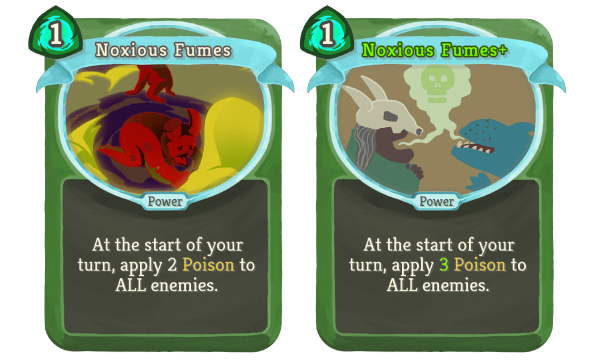 Noxious Fumes offers consistent AoE poison buildup. It is relatively slow, but reliable and eventually defeats any enemy. Upgrading the card basically doubles the poison application rate, as poison decreases each round.
It remains useful even in non-poison decks, excelling at knocking off artifact charges.
Rank: A
Predator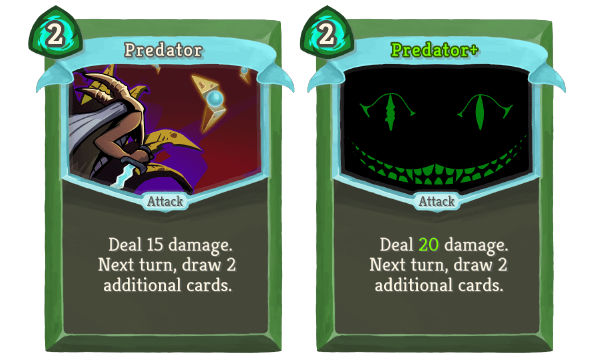 Predator is a solid choice in Act 1 for elite hunting, and it retains its value throughout the entire run due to its card draw effect.
It synergizes well with Snecko Eye, as the increased card draw enhances the likelihood of drawing 0-cost cards.
Rank: A
Reflex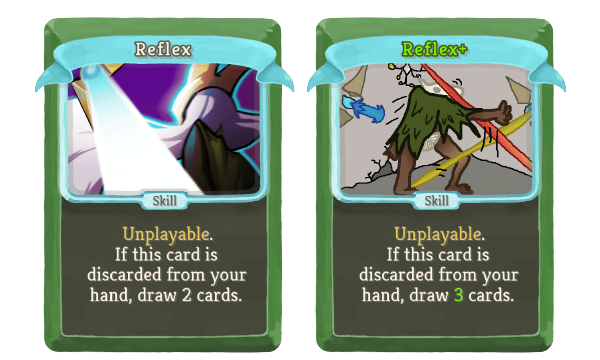 Reflex transforms a discard effect into a draw. It lets the energy from Concentrate be utilized effectively. It enables infinite combos with cards like Tactician, Calculated Gamble, and Prepared.
Rank: B+
Riddle with Holes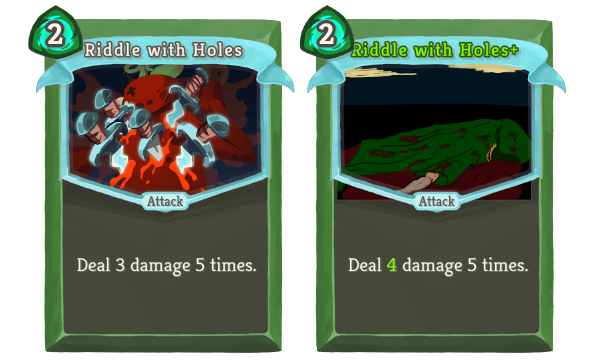 Riddle with Holes' 5x multi-attack benefits greatly from Strength boosts. However, since increasing Strength is generally challenging for the Silent, this card is rarely picked.
Rank: D
Setup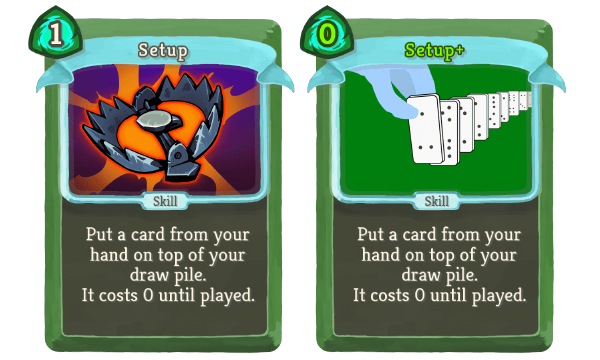 Setup is one of the least frequently picked Silent's skills. In theory, it can provide a 3-energy advantage, but the discounted cost comes at the expense of 2 cards drawn.
Rank: D-
Skewer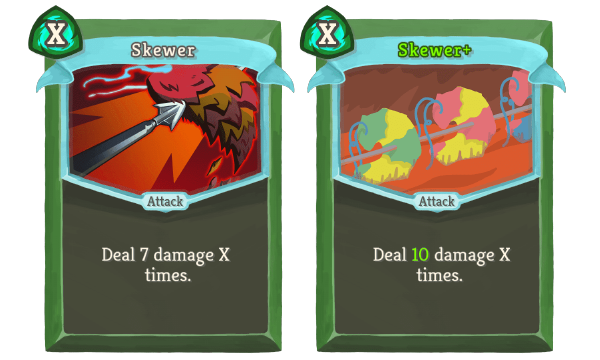 Skewer is a flexible card that allows the Silent to utilize excess energy. Maximizing your damage output every turn is very valuable, especially against elites.
Skewer has strong synergy with Akabeko, Pen Nib, and Necronomicon. When combined with Ice Cream, it becomes into a one-shot killer against bosses.
Rank: B+
Tactician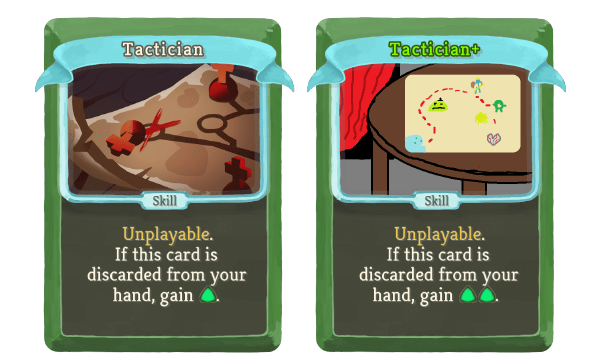 Tactician serves as an excellent way of gaining energy if you have decent draw and discard capabilities. Paired with Reflex, it provides a substantial energy boost to play more cards drawn, often leading to infinite scenarios.
Rank: A
Terror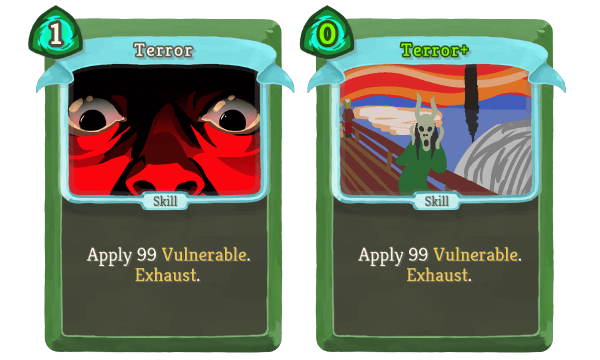 Terror is the only source of Vulnerable for the Silent. The Vulnerable effect lasts for the entire combat and offers a straightforward way of scaling physical damage.
Terror can be a game-changer in Act 1 fights, when your damage output is under a microscope.
The biggest negative Terror has is that it absolutely hates artifacts, and the Silent often struggles to apply the Vulnerable effect in the first place.
Rank: B
Well-Laid Plans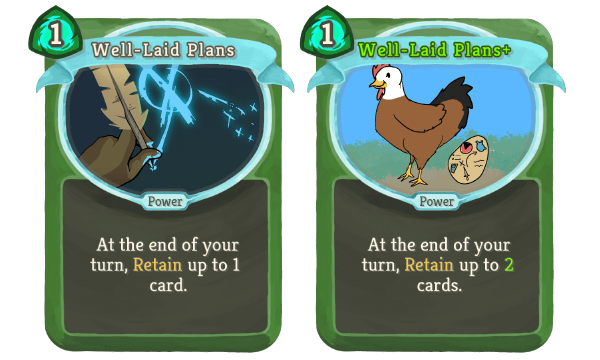 Well-Laid Plans is an exceptionally powerful card. It allows you to save situational or leftover cards, offering a more reliable means of executing combos in the future. Here are a few examples:
Saving Piercing Wail for enemy multiattacks.
Holding Catalyst for a larger poison buildup.
Preserving Nightmare for drawing Wraith Form.
Keeping Finisher for offensive rounds.
Reserving Skewer for energy-boosted turns.
Other numerous combinations and strategies.
Rank: S
Rare Silent Cards
There are 19 green cards in Silent Rare cards pool.
A Thousand Cuts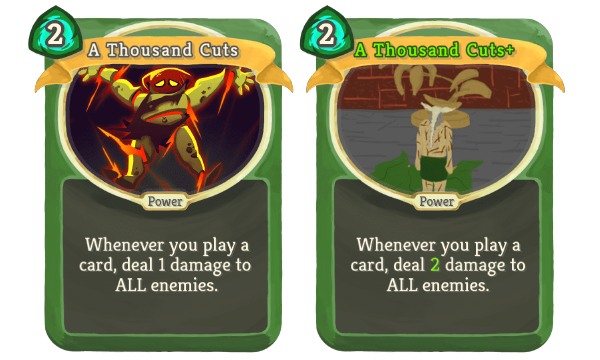 A Thousand Cuts encourages playing more cards by delivering sustained AoE damage. However, it suffers from being expensive and slow at the same time. It's often tricky to get it into play, and its payoff takes multiple rounds, whereas most AoE fights demand burst damage within a single turn.
Rank: C
Adrenaline
Adrenaline is a versatile card with no downsides, making it a valuable inclusion to any deck. Free energy and card draw pretty much always improve your deck.
Regardless of how many Adrenalines you already have, it's always nice to choose it as a reward during hallway fights. While it might not be a game-winning card or the core of your strategy, it significantly accelerates your overall gameplan.
Rank: S
After Image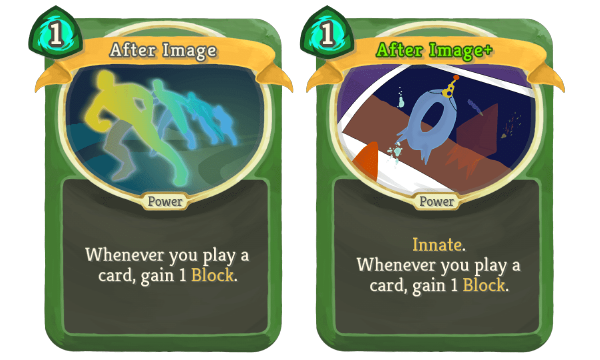 After Image fulfills defensive needs in action-heavy builds. Playing Blade Dance, for example, provides 5 blocks. Just two copies of this card counter the Corrupted Heart's Beat of Death.
Nonetheless, After Image faces punishment from two end-game bosses: the Awakened One due to its power nature, and the Time Eater, who discourages the use of less impactful cards.
Rank: S
Alchemize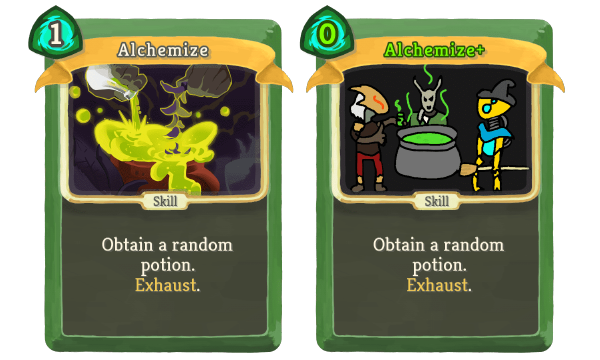 Alchemize allows the Silent to utilize potions more freely. With a steady supply of potions, it becomes practical to employ them rather than letting them go unused. In essence, Alchemize functions like the White Beast Statue relic.
However, an issue with Alchemize arises on higher Ascension levels, where your potion slots often hold critical importance, and valuable potions are reserved to overcome major challenges. In the late game, replacing good potions with random ones can be risky. The Potion Belt partially mitigates this concern by providing more space to experiment with.
Rank: S
Bullet Time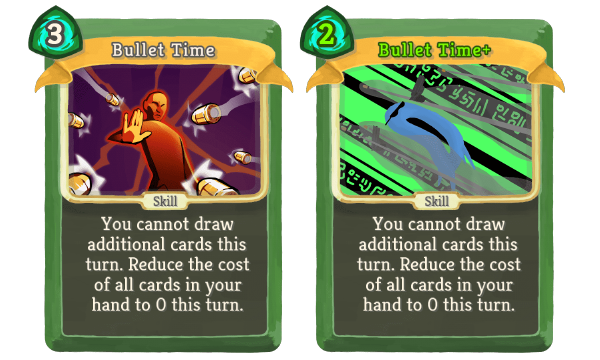 Bullet Time shines when you can fill your hand with as many expensive cards as possible. Otherwise, turning cheap cards into free ones won't yield significant benefits, and Bullet Time may become a burden in your deck.
Bullet Time pairs exceptionally well with Snecko Eye due to the additional +2 card draw and with Runic Pyramid, which allows you to fully maximize your hand.
Rank: B+
Burst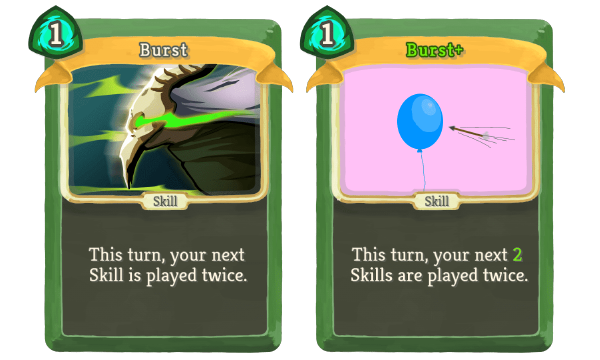 Burst is always worth picking up since the Silent has so many great skills. You can Burst a Catalyst for obscene amounts of poison damage, Malaise to weaken the enemy to oblivion, Blur to build your own Barricade, Apparition for mini-Wraith Form or Blade Dance for a flurry of shivs. Even things like Burst-ing a Crippling Cloud or Piercing Wail can be great for crowd control. It's pretty easy to set up once you have one copy of Well Laid Plans too.
Rank: S
Corpse Explosion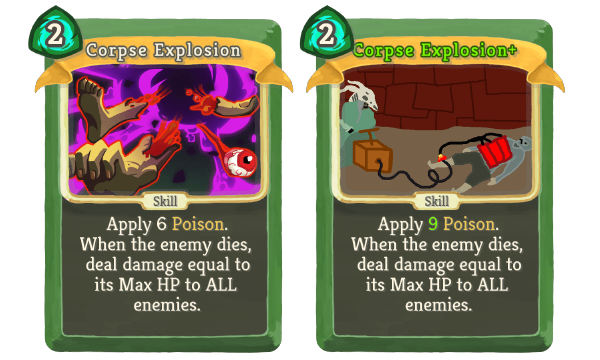 Corpse Explosion solves all AoE fights, including Deca & Donu. At worst, it removes 2 artifacts or applies some poison. It doesn't even require another poison card in the deck; no matter what deck you are building, Corpse Explosion will help in the run.
Rank: A
Die Die Die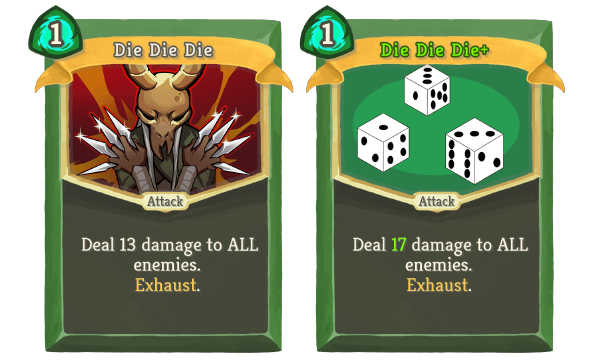 Die Die Die is a high-damage splash card. It makes hallway fights as short as possible and doesn't clog a hand in long boss fights by exhausting itself.
Rank: A+
Doppelganger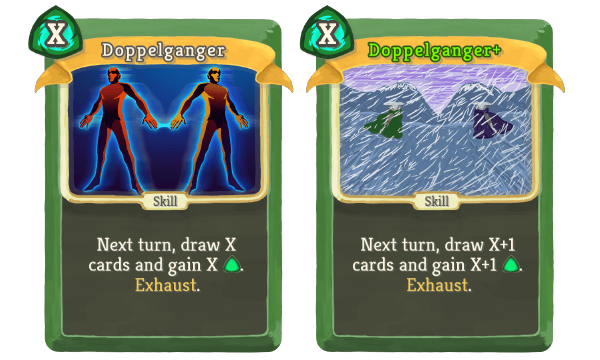 Doppelganger converts your current excess energy into a valuable resource for the next turn. It's highly situational and requires proper setup to yield substantial results. Here are some examples:
Amplifying physical damage after playing Phantasmal Killer.
Setting up a powerful Malaise turn.
Skipping Nemesis's intangible phases.
An upgraded Doppelganger is a viable choice when offered in hallway fight rewards, and it synergizes wonderfully with the Chemical X relic. However, outside of these scenarios, it's overshadowed by Adrenaline.
Rank: C+
Envenom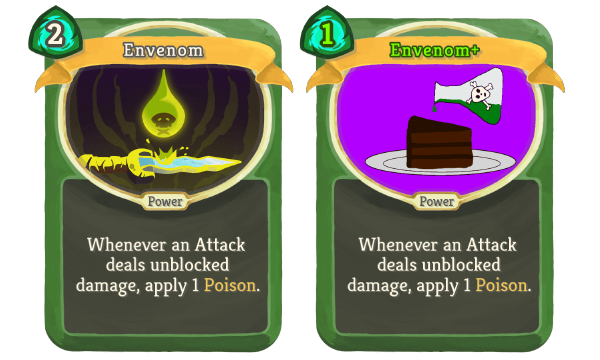 Envenom is usually a welcome boost for physical builds featuring cheap attacks like Shivs. It excels at removing artifacts and ridiculously good with Sadistic Nature power.
Envenom is somewhat costly without the upgrade and less effective against enemies with high block, such as the Spheric Guardian, Shelled Parasite (Avocado), and Donu & Deca.
Rank: B+
Glass Knife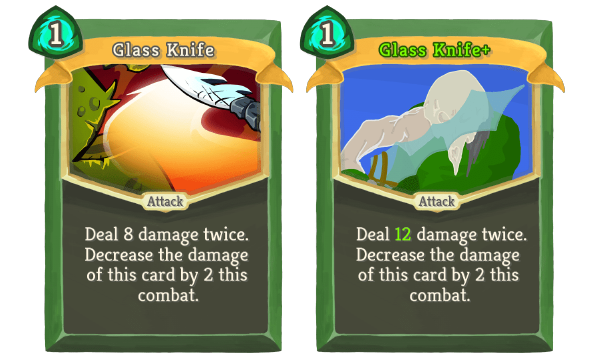 Glass Knife is a fantastic card for the Silent, a character who often struggles in dealing upfront single-target damage. It's a welcome addition in the early stages of any run and benefits greatly from an upgrade.
Since combats in Slay the Spire are typically short, the reduction in damage on the card is usually not noticeable, except during boss fights.
Rank: A
Grand Finale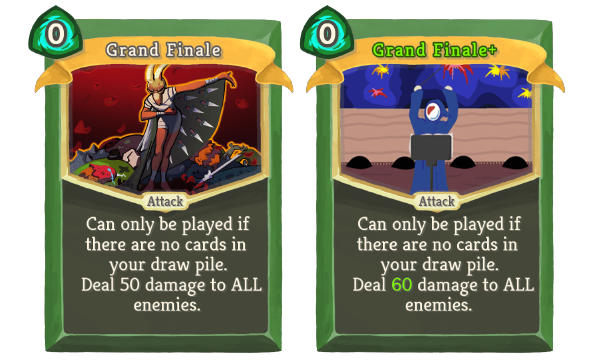 Grand Finale is an extremely powerful card that not only requires the correct deck but also mistake-free play. You need consistent discard and retain possibilities, as well as careful draw calculations to get Grand Finale into play. Things can go wrong due to statuses being added, Ink Bottle or Gremlin Horn draws, and debuffs from Time Eater.
Experienced players, who are willing to invest more time into careful decision-making on every single turn, will benefit greatly from the incomparable damage the card provides.
Rank: C
Malaise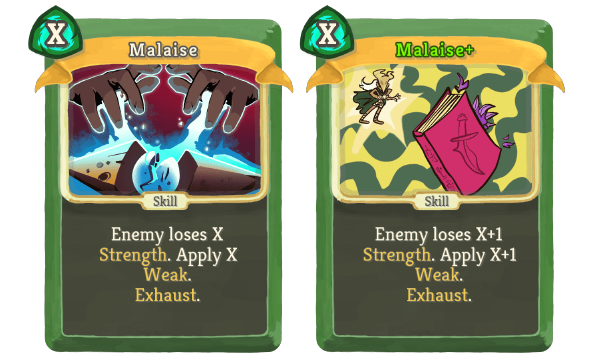 Malaise is an amazing card that solves many difficult fights, such as the Book of Stabbing, Snake Plant, and even the Corrupted Heart (partially). In general, it's highly effective in battles against multi-attacking enemies.
Additionally, you can use Malaise to reset the Strength gain of Time Eater and Awakened One.
Rank: A
Nightmare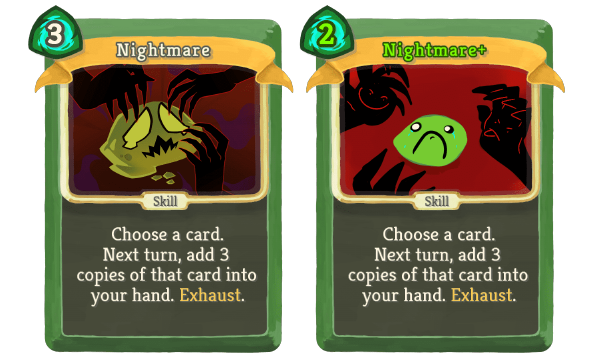 Nightmare is a cool duplicator with amazing potential. It single-handedly wins boss fights by duplicating cards like Catalyst, Apparition, Wraith Form, Footwork, Afterimage, Calculated Gamble, or any other valuable card.
Nightmare is rather expensive, especially when unupgraded, which may stop you from playing additional cards on the same turn. This makes it somewhat awkward to use the card in hallway fights.
Rank: A
Phantasmal Killer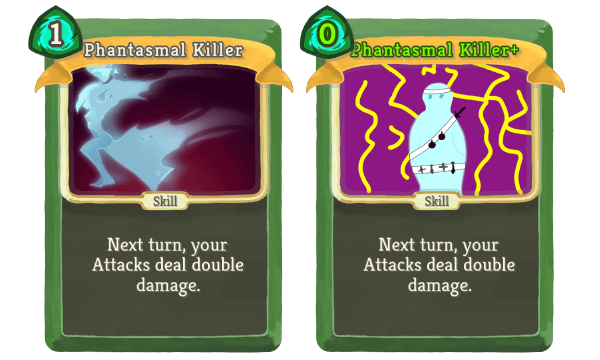 Phantasmal Killer is a reasonable method to double Silent's physical damage output. It's particularly effective for Shiv builds, although relying solely on attacks to deal damage is uncommon for Silent. Nevertheless, it still has its place, especially when you can set up a massive Skewer or Finisher to eliminate nearly any enemy, except for the Heart.
Rank: B+
Storm of Steel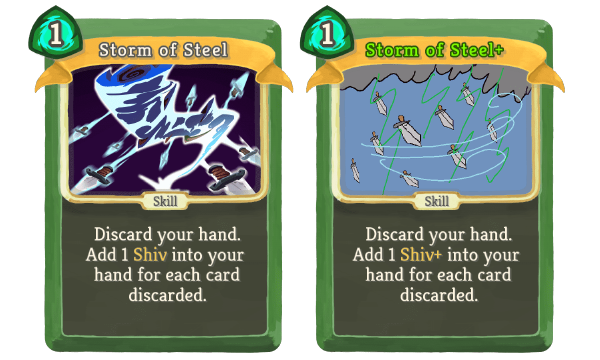 Storm of Steel is a strong card when you have sufficient synergies for Shivs or discarding. Its damage output increases when you have more cards in hand.
Synergies that greatly enhance this card include:
Snecko Eye and Bag of Preparation for more cards per turn.
Strength-scaling relics like Shuriken, Girya, Vajra, and Du-Vu Doll.
Discard-rewarding relics such as Tingsha and Tough Bandages.
The ability to hold more cards with Well-Laid Plans or Runic Pyramid.
Wrist Blade relic and Accuracy power to improve Shivs' damage.
Card-drawing spells like Acrobatics and Backflip to fill your hand.
Dead Branch to get random cards after exhausting Shivs.
Rank: B
Tools of the Trade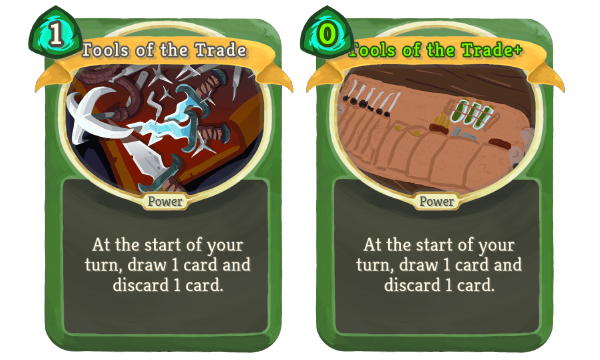 Tools of the Trade makes building discard synergy easier and renders cards like Tactician, Reflex, and Sneaky Strike useful on every turn. Hovering Kite turns this card into a consistent extra energy generator. However, you first need to draw Tools of the Trade to gain its benefits, which can make it quite slow for hallway fights.
Rank: B+
Unload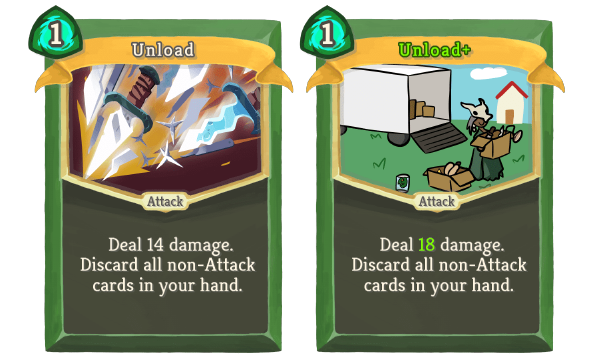 Unload provides strong front-loaded damage for one energy, which is highly desirable early in your run. However, due to its rarity, it's unlikely that you'll see it before Act 2. Furthermore, as your deck evolves, you'd rather not draw it since it can hinder drawing cards that scale with your build.
Unload's damage output is lower compared to Glass Knife, but its even bigger drawback is that it forces you to discard cards you'd prefer to keep with Well-Laid Plans.
Rank: C
Wraith Form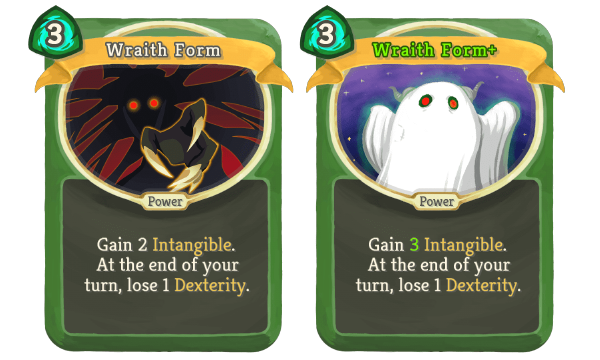 Intangible is one of the most broken mechanics in Slay the Spire. Wraith Form is a lifesaver against enemies with devastating attacks. It's often a top-priority upgrade and synergizes very well with Well-Laid Plans. Wraith Form excels in quick hallway fights and fits many different builds.
Rank: S